When it comes to sewing, I am no stranger to accidents.  More times than not there is a whole lot of cursing that happens during these moments.  I am bringing this up because of my most recent endeavor.  More on that in a little bit.
Recently I joined "Twitter".  I have never been a fan of these social media type messaging systems. I am pretty sure that people don't care what I am up to from minute to minute, but sometimes it's fun to see what your favorite "sewing celebrity" is up to.  Do you have any favorite sewing celebrities?  I have a long list, and I feel that it's okay to "follow" these inspirational folks.  Their little tidbits of information tweeted throughout the day reminds me that they get frustrated with sewing as much as I do.  They also have highs and lows when it comes to tackling life in general.  They are real, and they put their pants on one leg at a time.  This reminds me of a little story…..
I can remember back to one of my very first field trips. Miss Brindle was our 1st grade teacher.  She was young, pretty, perfect and I adored her!  Our class went to a horse stable for this particular outing. Miss Brindle joined my mom, myself and a few of my classmates in our car for the ride over.  When we arrived to the stable Miss Brindle asked my mom if she would be fine to watch the kids for a few minutes while she went to the "restroom".   I remember feeling completely flabbergasted!  Ms. Brindle, this beautiful, young, perfect lady that I looked up to used the toilet also?  Wow!  I had no idea.  My mom found my reaction to be really funny, but if you think about it, it makes sense.  Most of us forget that sometimes, all of us have nearly the same struggles.
Mostly I joined Twitter to stay informed of the happenings with the Sewing Summit. I am going in October and this year they are offering a very extensive list of garment sewing classes!  I don't want to miss out on registering for some of these key classes I would like to take (offered by some of those folks on my sewing celebrity list) and I am thinking that registration will be announced on Twitter.
So, since I returned to California from Cape Cod I have found myself to be pretty uninspired.  So when I discovered this blog entry (through Twitter) from A Crafty Fox I found my inspiration!  A fun colorful quilt!
  I know, I know, I am really not a quilt sewist.  All the exact measuring and sewing in perfectly straight lines, not really my strengths.  But after buying two $7.00 scrap bags from the Jennifer Paganelli Sis Boom Summer Sale, I was so inspired by all the colors and prints together that I just had to find something to do with them!  Amanda, from A Crafty Fox has a lovely tutorial on her blog that uses hexagons and chevrons.  I read through her tutorial and of course, didn't really read it.  Drats!  Why do I always do this.  I rush through the directions and kind of wing it.  Ugh, no wonder I was having problems with everything matching up as it should.
Even with all the issues I was having, I still muddled through.  I kept hearing something in my head that I had read earlier in Denyse Schmidts' "Quilts" Book. Yes…. Denyse is on that list of sewing celebrities.   Denyse states in her book that she "taught herself to quilt by reading books and by making more than a few mistakes."  She then goes on to say "That's where I learned that there is beauty in imperfection.  I hope you'll keep that in mind as you create your own quilting projects.  Don't stress out about making mistakes.  Rather, take advantage of those happy little accidents, and enjoy the process."
I guess I can say that I have enjoyed the process.  Seeing all of these beautiful colors and designs together on one "canvas" just makes my heart sing.  Makes me smile and makes my happy.  I am learning and I am embracing the little imperfections.  There are many of those to love!
I haven't decided on the size of the quilt yet, my original thought was to sew a throw. Now, though I am thinking that I would like it to be large enough for it to cover legs if one of my boys (or me) would like to take a little snooze on the couch.  So we will see.
While I am working on that quilt I am also going to start another project.
This jacket: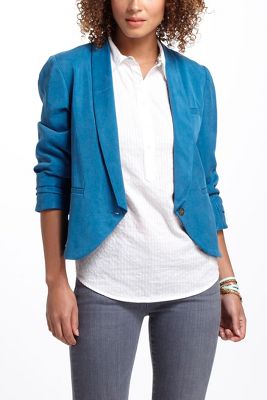 I found this at Anthropologie.  It's called the Miette Blazer.  I like the swooping collar, not so much the color and not the tencel/polyester blend.  I went and looked at this jacket in the store and it isn't even lined, which is probably why it is not entirely too expensive at $128.00.  The Miette Blazer is similar to this other pattern I have been pondering from the Burdastyle website.
As you can see it isn't an exact match.  I feel as though my wardrobe could use a nice dark colored jacket to wear casually with jeans.  Maybe I would look "fierce"?
So as you can see, I have many thoughts on what I would like to be sewing.  The boys started school on Wednesday, they are tired and Jim and I are tired.  The four of us are still trying to get our groove back.  Soon, hopefully.
To all of you, have a fantastic weekend, stay creative and well.