I don't know about you, but I find some of my inspiration from what is going on in the retail world.  Current fashion trends don't really interest me, I am more influenced by "vintage inspired" new clothing  with a 50's flair.  One of my favorite afternoon outings is a leisurely browse through our local Anthropologie store in Corte Madera.  I especially like going on a Tuesday when they have the start of their weekly sale wink, wink.  Lately though I find my shopping bliss has been murdered by my enthusiasm to sew. This is a strange statement I know, but have you ever found yourself in a store looking at a particular item and saying, "why buy this when I know I can make it?"  Those on the outside look at you with eyes of envy because You Can Make it, but on the inside you know that you are NEVER going to get around to sewing, crafting, cooking, knitting or making that specific thing, BECAUSE you cannot stop time.  Time stands still for no man or woman.  
Just today I joyfully entered our Anthropologie store and quickly had that feeling again when I saw this lovely vintage inspired dress.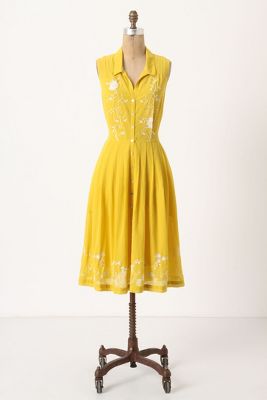 Yes, I know I could make this lovely frock, unfortunately I cannot stop time.  If only we had more time in the day, right?  
This is another dress that when I saw it I had intentions of sewing I saw Emma Stone wearing it in the movie The Help-  I so love this dress!
Isn't it amazing?- I am not sure if there is a name for this Peggy Hunt inspired neckline, but it just makes me swoon!  Sarai did a really nice nod to Peggy Hunt on her Coletterie Website displaying many of Ms Hunts' gorgeous creations.  Colette Patterns and Coletterie offer an immense amount of sewing education for a sewist of any skill level.  When I have sewing questions I often always look to Coletterie for answers.  
So to say that sewing has "murdered" my shopping bliss, is pretty harsh BUT I have to say that the last 6 times I departed Anthropologie, I was empty-handed, but  with a mind full of many thoughts for future projects.  
The reality of THIS sewist (and to sew this blog up-arr arr, I couldn't resist)?  Purchasing clothing off the rack doesn't really float my boat anymore,  BUT buying yards and yards of fabric, scads of sewing patterns and notions gathering inspirations from shopping and movies makes me blissful and floats my boat!
What's your Bliss and what floats your boat?  Has sewing ruined shopping for you as well?
Have a lovely weekend!  
xoxo